Today's modern kitchen is so much more than a place to cook our meals. We entertain there, greet friends, prepare food, store our perishables, and so much more. People consider how to best design and outfit their kitchens to a much more extensive level than our imagine.
You can choose fancy modern drawer fronts and countertops, but it will still come off as bland and less functional without the right kitchenware. Ceramic kitchenware offers functionality, food safety, beauty, and ease to the modern kitchen. We can say that choosing stylish kitchen accessories now adds the life of a kitchen.
Below you will find a few of the more common knowledge that have been known for years. Read on and enjoy!
 The Benefits of Ceramic Kitchenware
When purchasing any product we always want to know what positives it will bring into our lives, and ceramic kitchenware will not disappoint. Ceramic kitchenware is glazed and fired at temperature exceeding 1000 degrees. The application of heat on the raw materials that make ceramic products achieve more than just beauty. We have listed some of the advantages you will get from using ceramic cookware and utensils in your kitchen.
Safe Health Wise
Metal leeching is a major concern for many people when it comes to using utensils made from materials such as iron. Metallic pots will give out some amounts of zinc, cadmium and some other particles that will be potentially harmful over time. This happens when the kitchenware is heated in the process of cooking food, and even if the effect will not be experienced within a short time, the leaching will have a negative effect on your health as time goes by. Surely everyone these days knows, for example, the link between aluminum oxide in the pituitary gland and Alzheimer's disease.
On the other hand, side effects caused by chemicals and micro-particles produced by metallic kitchenware when subjected to high temperature is not a worry when it comes to the use of ceramic kitchenware. Ceramic products are the least reactive cooking material when exposed to the level of heat required to cook food, and so your family will be safe from such dangers. After all, high heat is the natural environment of glazed ceramic kitchenware!
Even though utensils that are manufactured in any part of the world have to be put through strict consumer safety and usage guidelines, it is always prudent to take precautions and purchase products in which you are completely sure of their safety. Ceramic products in your kitchen will ensure that your family remains healthy and strong.
Versatility 
Of all the cookware available in the market, ceramic kitchenware is the best bet you will get in any store because you can use them for cooking and heating. When it comes to true versatility, nothing beats ceramic kitchenware. It is safe for the freezer, refrigerator, microwave, and oven. From the freezer to the dinner table, ceramic cookware is both 100% safe and 100% beautiful.
Ceramic material will retain heat for a long period of time, so it stands out from the rest when you need to serve food. Your guests will have time to chat over a meal and there is no worry that the food will get cold before it is cleared. Unlike the typical serving containers, you are guaranteed to have warm food on your plate for longer, and that will give your guests time to eat the food comfortably and clear their plates before the food gets cold.
Any leftovers will be stored safely in the freezer using the ceramic bowls, and when you are finished, cleaning ceramic kitchenware is another simple process because cold food does not stick to ceramic surfaces.
Durability 
Any kind of utensil will break if mishandled, and this applies to ceramic utensils too. However, ceramic products can withstand the usual strains of the kitchen because the process of their production hardens them. They are strong enough to withstand usual knocks because underneath the attractive surface is a strong material that will last for a very long time when handled accordingly. Grandma's ceramic dinnerware set from over 100 years ago may be a family heirloom within your own family.
Those are just some of the many benefits you will get when you give your kitchen a makeover with a top quality ceramic kitchenware set.
Main Ceramic Kitchenware Items
When you choose to give your kitchen a new look, you do not need to buy and change every single item in your kitchen. There are what might be considered "main ceramic items" that you should purchase to improve the state of your kitchen, both in operation and appearance. Some of them are butter storage canisters, tea mugs, flower vases, frying pans, salt and pepper shakers, and sugar canisters. Below are the pieces you should focus on to give your kitchen a new life, before you fully convert your kitchen with ceramic cookware.
1. Ceramic Cookware sets
These sets are a great alternative to the problem posed by the conventional cookware that has Teflon. When you purchase ceramic coated cookware you will avoid the health hazard posed by the coating substance, which chips off in the process of cooking when you least expect it. Health-conscious people not only prefer ceramic coated cookware because of the safety but also because they enable you to use little or no oil while cooking. You stay healthy by reducing fat consumption while saving on cooking oil.
The sets come in 10 to 15 pieces that comprise of frying pans of varying sizes and depths. Included in the sets are cooking and servings spoons to make your experience smooth and enjoyable.
2. Ceramic Canisters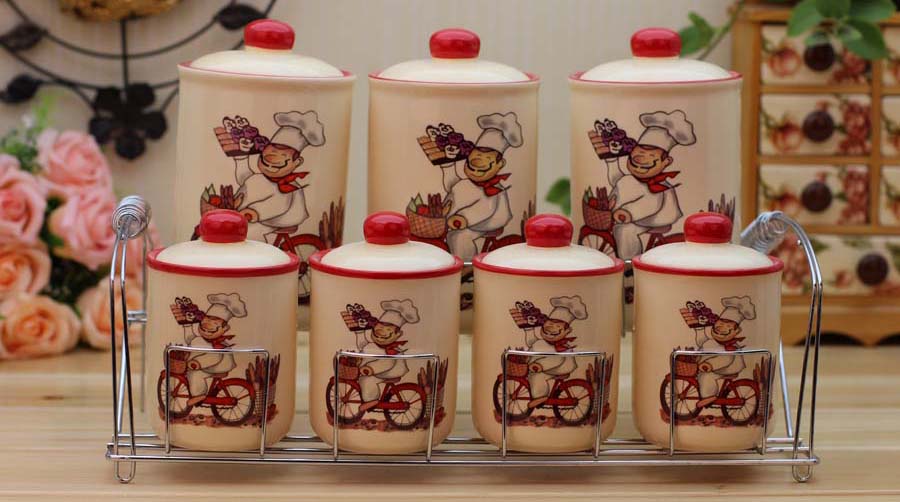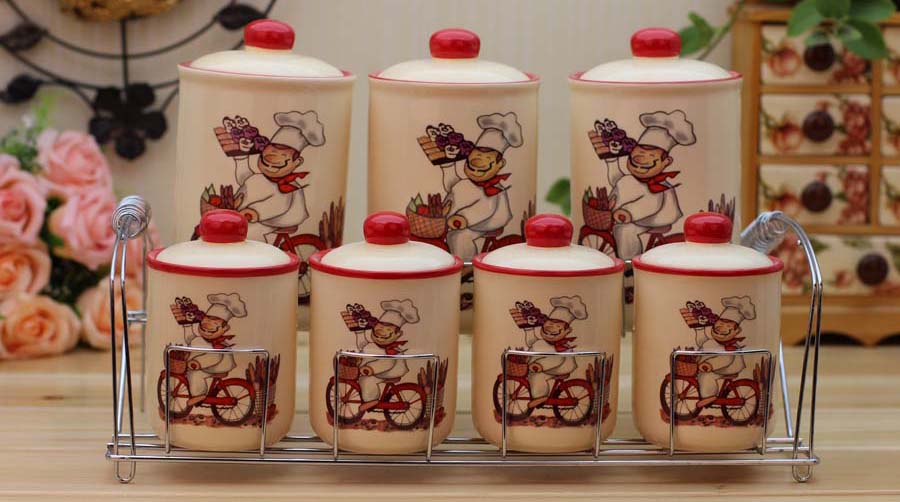 You will want to store your salt, tea leaves and sugar prestigiously and serve your guest with class, and beautiful, durable canisters will help you do exactly that. These storage components come in different sizes, and are shaped in a way that corresponds to the use of every piece. For instance, the salt shaker will offer the user a comfortable grip and standard holes that will not allow excess salt to pour through, or give the user a hard time if the holes are too small. The sugar bowls are wide enough to allow comfortable scooping of the contents, with a groove to allow for the covering while the teaspoon is still in the bowl.
3. Ceramic Butter Dish
For how long will you store your butter in its wrapper when you can unwrap it and store it beautifully and safely in a butter dish? These ceramic containers are perfectly designed to hold the butter in place, leave enough space for the preservation water and provide a cutting slate in the form of the ceramic butter dish base. Gone are the days of messy cutting and clean-up of cutting butter on a cutting board.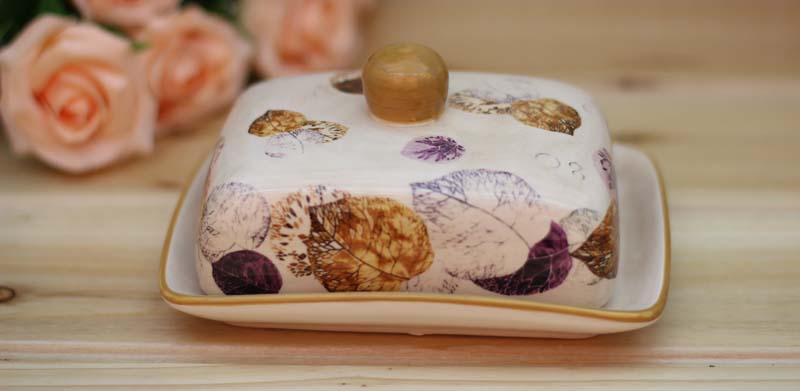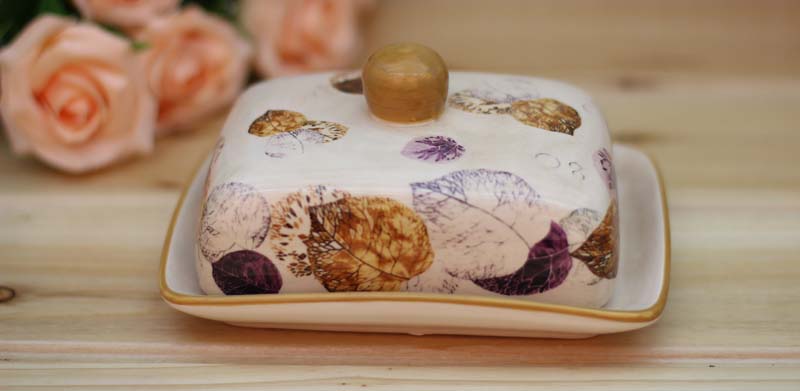 A ceramic butter dish will allow you to keep your butter soft and ready for use, while simultaneously keeping it covered for freshness and food safety. Additionally, when left in its packaging wrapper for the entire time of usage, a stick of butter becomes a messy eyesore as time goes by.
4. Ceramic Bowls
I am sure you have had a bad experience with plastic and metallic bowls just like everybody else. A ceramic bowl will not lose its lovely appearance for as long as you use it, but obviously, that will be if you take the required care for it. Bowls made from other materials develop ugly scratch marks that turn black over time, which are hard to clean because they will keep on turning black, regardless of how often or how well you clean them. Plastic bowls have a hidden danger as well. If used again and again in the microwave, plastic bowls can eventually break down and release toxins in to the food which is being heated in them. They can also become discolored from acidic food such at tomato sauce, leaving them bad smelling and unattractive. This is virtually impossible with ceramic bowls and canisters. The glaze which seals the entire surface of ceramic kitchenware is guaranteed 100% safe for food, and since the glaze is non-porous, in cannot absorb any oils, colors, or scent from food, no matter how many hundreds of times it is used over the years.
5. Ceramic Salt and pepper shakers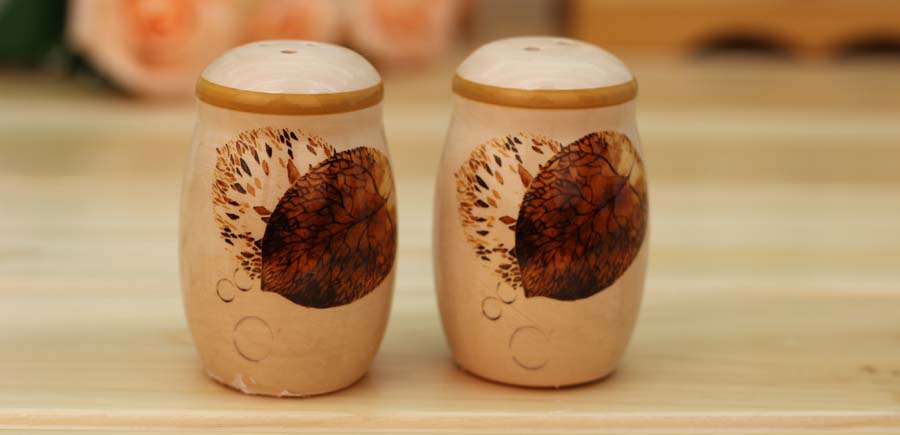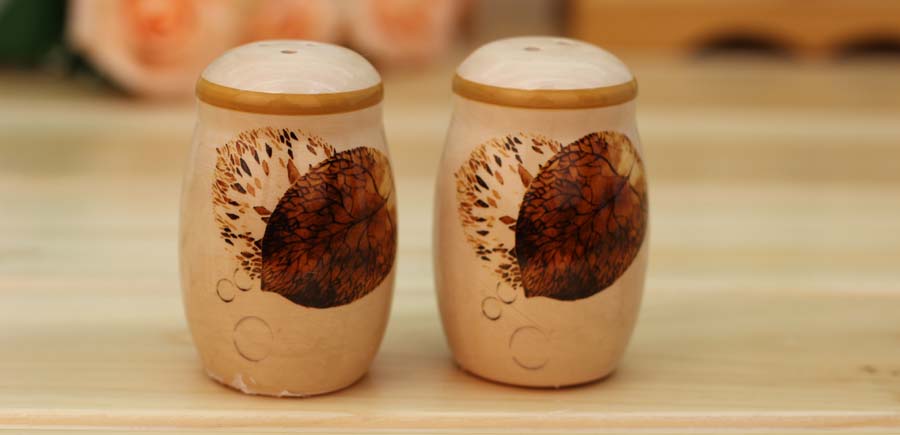 As mentioned earlier, pepper and salt shakers will provide you with convenient and clean usage because the contents never stick in the container, and the holes are designed in a standard format to ensure that the contents do not come out excessively, and that they do not make the user struggle when trying to shake enough of the contents on to the food. Who knew so much technology went in to something as simple as a salt shaker?
6. Ceramic Oil and Vinegar bottles
Ceramic kitchen accessories are the only way to go nowadays because of the simplicity they bring to kitchen operations. Imagine how careful one must be to balance or measure ingredients correctly when you are in a bit of a hurry. At times you use less and at others you use more than is required, making your family or guests wonder if you seriously have the skills required to provide them tasty food. You do not have to worry now because with ceramic vinegar and oil bottles, you will easily be able to pour just the required amount you want for your ingredients. You will find many varieties of the ceramic bottles online, which will fit the setting of your kitchen.
7. Ceramic utensil holders
Kitchen-savvy people know that these days, almost everything you need for a modern, beautiful, safe kitchen is available in ceramic. Change from the usual plastic and wire utensils holders, and buy a set of the best ceramic kitchenware that includes a utensil holder. The holder not only holds your utensils perfectly in position but also completes the appearance of your kitchen.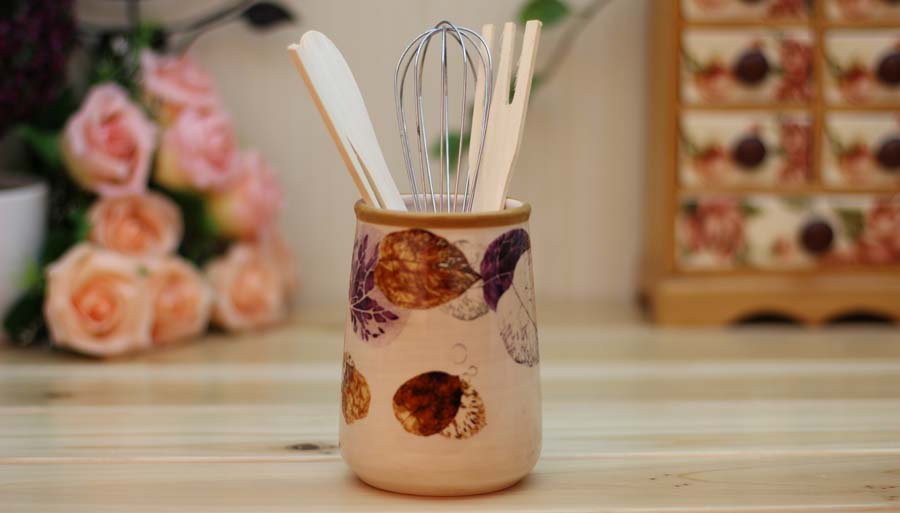 The primary reason for buying a set of any top quality ceramic utensils as a "complete set" is because they have been designed as a unit and hence will groove together perfectly. When you buy a separate ceramic holder from the utensils you want to store, you will still achieve the results you want but it will not be as perfect as you will have with a holder that comes as part of a set.
Factors to Consider When Buying Ceramic Kitchenware
You may have had an experience of being ripped off after buying a set of kitchenware that did not last very long. Homeowners will always focus on the durability of the kitchenware that they want to buy, because it is something that they hope they will be able to use for a long time. As long as you understand the true use of your utensils and value of a job well done concerning the utensils you need for your kitchen, it will not be hard for you to decide on the ceramic utensils to buy. However, you will need to base your purchasing on a few factors, some of which are indicated below.
• Material 
• The market is flooded with various types of cookware made from different material, and hence you will need to understand which is best before you purchase your set. Ceramic has become the best choice for many homeowners because of the many advantages it offers over other metallic or plastic materials. Have you ever seen an heirloom plastic or metal bowl? Of course not. They're considered chap, disposable items. High quality ceramic kitchenware, however, can be a cherished part of the family for generations to come. Ceramic plates have been unearthed in France that date back to the 6th century.
• Quality 
• Many online ceramic utensil stores have come up lately, so you will need to distinguish the genuine article from the fakes. We all want to get value for our money. Take a little time and look at the prices on some websites which offer ceramic kitchenware. The old adage "You Get What You Pay For" isn't just an adage. That's why you can get cheap plastic bowls for 99 cents each. High quality ceramic kitchenware that will be in the family for generations will not be too expensive, will last forever, and will give your kitchen a beauty and practicality far beyond other options.
• Vital Pieces 
• At times you will not need to buy certain pieces of a particular ceramic kitchenware set if you have no use for it. You may be able to request the seller customize your set, and that will bring the cost down too.
• Family Members 
• There is no need to purchase so many pieces of a ceramic kitchenware set if it will just lie idle in your kitchen. Choose the ceramic kitchenware set that will be enough to accommodate your family and guests. You may discover that you don't need a service for 12 with a family like yours. You may be able to save both money and storage space by choosing a set that best fits your real needs.
• Kitchen theme 
• A ceramic set will fit in perfectly in terms of appearance when you buy one that complements the color theme of your kitchen. Choosing colors and accents in your ceramic kitchenware pattern will be fun, and if chosen well, can tie the whole room together. You can even run a few favorites by friends and family and get the opinions of others!
• Purpose  
• Ceramic kitchenware comes in different shapes, sizes and types, based on the intended usage. You will therefore need to understand what you need the pieces for so that you can buy the right set for your kitchen.
• Care and Durability 
• When choosing ceramic kitchenware, understand that ceramic is a fairly durable product, but still requires some care in handling. Ceramic products are heat hardened in the manufacturing process so they are not terribly fragile and have the strength to endure the usual kitchen knocks. Still, they are not indestructible.
• Budget  
• The prestige and other advantages of ceramic products come at a price, and hence you will need to check the range of price that is comfortable to your pocket before you make the order. As in all things, you have to consider the intended use of your kitchenware, how often it will be used, and who will be using it. Is it just for special occasions? Is it purchased with the idea of it becoming a family heirloom? Naturally, your day-to-day ceramic kitchenware will most likely be cheaper than your "holidays only" dinnerware.
Conclusion
With such an abundance of kitchenware options out there, it can be a bit overwhelming to decide what is best. Hopefully, this article gave you some ideas and some points to think about. After reading this article, though, I am sure you can agree there is no product on the market that is safer, more long lasting, and available in more colors and patterns than ceramic kitchenware. It is safer than plastic for your health, and will not discolor or begin to smell bad like plastic kitchen products do. The sleek, smooth surface of ceramic products is non-porous, so no bacteria can adhere to the surface and spoil the food inside your ceramic bowls and storage containers. Ceramic products also contain no heavy metals, which can leech from metal bowls, cookware and storage containers and dangerously taint food.
From the ease of ceramic products going from freezer to microwave to oven to table seamlessly and, above all, SAFELY, to being available in every color to suit every décor, to being priced to suit any pocketbook, I am sure you can agree there is no kitchen product more versatile and safe than ceramic kitchenware. For value, durability, safely, and sheer beauty, make it ceramic.